Writing
I have written plays for youth theatres and for professional performance to young people. My scriptwriting work has been for both broadcast and non-broadcast television, including work for entertainment and children's programming, educational and informational projects, drama, drama-documentary, and comedy. I've also worked as a storyline writer and script editor. Writing for film has included development work for children's animation projects at Cosgrove Hall and, as a winner in the Euroscript/Media II film story competition, I went on to develop a feature length screenplay. With considerable experience of both writing and editing I bring enthusiasm, imagination and practised ability to any writing work I undertake. I am always interested to hear about possible projects and happy to have a preliminary, no-strings discussion to explore how we feel about the idea of working together.
Since the early 90's, I have developed expertise as a teacher of scriptwriting and screenwriting. In addition to work at Manchester Metropolitan University I was invited to teach on postgraduate courses in the UK and Belgium. I have taught many adult education day schools, co-led a course at the Arvon Foundation, and run my own short courses. In 2001/2, I worked in what is now North Macedonia training and developing the young writers on two series of 'Nashe Maalo' a popular children's drama modelling inter-ethnic understanding and conflict resolution. I was also the script editor on the programme. My book, Scriptwriting for the Screen, was published by Routledge in 2001 and a second, revised edition came out in 2008. Available here: www.amazon.co.uk/Scriptwriting-Screen-Skills-Charlie-Moritz/dp/0415465176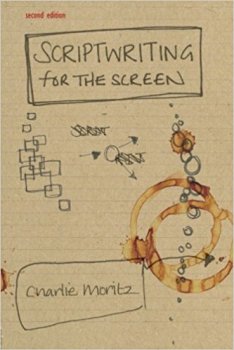 The video link below is to a 2014 project in which I trained and mentored actors already graduated from Manchester School of Theatre as they wrote screenplays for final year Acting students to appear in. I also directed the piece.
I have worked with people creating short and full-length screenplays, scripts for TV, radio, theatre and also people writing books. I am very experienced at helping people move from the initial germ of an idea through to a fully-formed, polished final draft. Working face to face, over the phone, via the internet or a mixture of all three are possible. Whilst no-one can ever guarantee an idea will be commissioned or a script or book will attract commercial interest, I can offer the kind of support and input which will make a real difference to your work in progress, and as a consequence give your finished piece a better chance of being picked up and produced.